How To Migrate On-Premise User Profiles to Azure AD
Need to move local domain profiles to Azure AD profiles? Learn how to automate user profile migration from local domain / workgroup profiles to AAD DS, without losing user settings or data.
When you migrate to Azure AD, one of the more annoying things you have to deal with is profile migration: how do you migrate all those existing users to their new Azure profiles, without losing their data, profile settings, Outlook profiles etc.?
Of course, you can do this manually, but that adds up very quickly when you have to do Azure migration for hundreds of profiles.
In this tutorial, we'll use Zinstall Migration Kit Pro, which performs a complete profile migration in just one step. This works both for local domain profile to Azure AD profile migrations, and for workgroup profile to AAD migrations.
This is a complete migration: not just files / documents, but also user personalization, app settings, profiles, accounts, passwords, favorites / bookmarks, everything the user has in their profile. All done in one step and with no swap space required.
If you need to migrate to an Azure profile on a different computer, that's possible as well - see this tutorial for Azure migration
How to: On-prem profile to Azure AD profile migration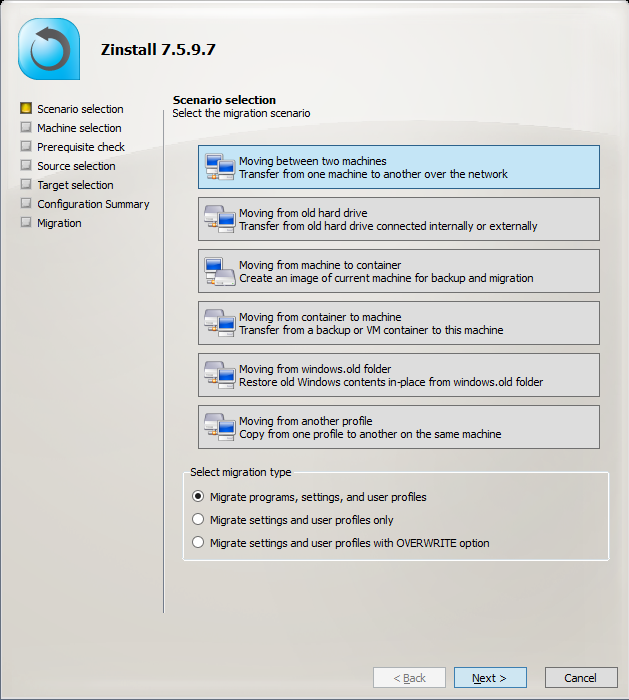 In a typical case, we are migrating from an on-prem profile (local or domain) to an Azure profile, on same actual computer. Here is how to do that:
Join the workstation to Azure AD, and log in as intended Azure AD profile.
Run Zinstall Migration Kit Pro.
Select the last option on the main screen ("Moving from another profile"), and click Next
Select the original profile (the one that you want to migrate from), and click Next.
Press "Go" to start the migration.
That's it! The profile contents are transferred to the other workstation - and the migration is complete.
Note that you can also use the Kit in command-line mode, which is useful in SCCM and other management tools integration. See "Command Line Execution" in the user guide.
Ready to make your Azure AD migration easier?
You can get Migration Kit Pro with bulk pricing here, or contact us for evaluation, more info and volume discounts.
Video: Profile migration to Azure AD using Migration Kit Pro